Yes We Are Open – Live Update

Dear valued guest;
Thank you for your support and understanding during these challenging times. We have been diligently working on how to best operate our business and adapt to this rapidly evolving situation There were many factors in our decision making process but our primary concern has been and will remain the safety and health of our employees and customers. In accordance with the stay at home order issued by Governor Baker, we will be making the following changes to operations:
Sales
Effective noon on Tuesday, March 24, the sales department has closed.
Service (Drop and Go)
As an essential business, the service, parts, and wholesale operations will remain open at this time, but please check the website for the hours as they may change. We pride ourselves on exceptional customer service and will continue to provide it, but must do so in a different manner:
Service will be no-contact, where the customer completes a drop envelope and leaves the car without entering the building
Service will be by appointment only
No shuttle service
No loaners will be available
Closed on Saturday
See "SERVICE PROCESS" Below
We ask that if you are sick or have been in close contact with anyone who is sick that you do not come in. We apologize for any inconvenience this may cause and we appreciate your understanding as we work through these challenging times together. If at any time we determine that we are unable to provide a safe environment, we will close our facilities with proper notice.
This remains a fluid situation and will likely remain so for some time; we will closely monitor the situation and will keep you posted via email, Facebook and our homepage.
Thank you and be safe,
The Best Organization
MASS.GOV – RESOURCES | CDC.GOV – FACTS | CDC.GOV – SUMMARY

SERVICE PROCESS (Drop and Go)
As a result of COVID-19 "Shelter in Place" order from our governor, our service process has been updated with the following changes to ensure we can safely serve you:
Arriving
When you arrive please note that our normal service entrance is locked. We are asking all guests enter through our Sales Department's side entrance (Image 1), to the right of our "Pull Ahead" sign as you drive in.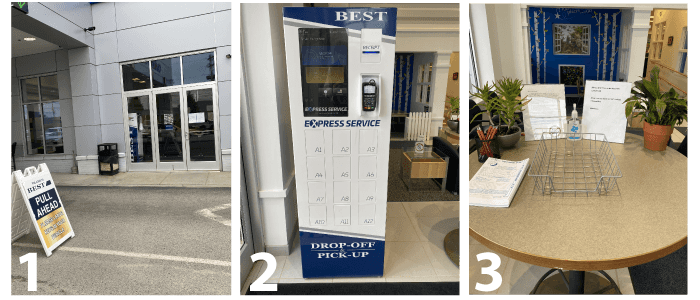 To begin the service process you have one of two options:
Use our Express Kiosk by entering your phone number or last name (Image 2)
Or, Fill out and complete a Drop Off Form (Image 3)

Please be descriptive and ensure we have correct contact information on the form and the best means of contacting you for either text, email or phone.
Reminder:
Guests are not allowed to wait for their vehicle and must have a ride.
We can no longer offer shuttle rides or loaner vehicles, SO PLEASE MAKE SURE YOU HAVE A RIDE HOME.
You will be informed when your vehicles is completed
We ask that you complete payment with OVER THE PHONE or AT OUR KIOSK..
Pickup
Please wait to be notified that your vehicle has been completed prior to coming in. Once here please notify a cast member and we will retrieve your keys. Your car will be in the out-going carport pickup.
We will continue to stay open through this time of need but please refer to our website for our hours of operation as they have changed. We thank you for your understanding and patience during this difficult time and from all of us here at Best we sincerely wish the best during this difficult time.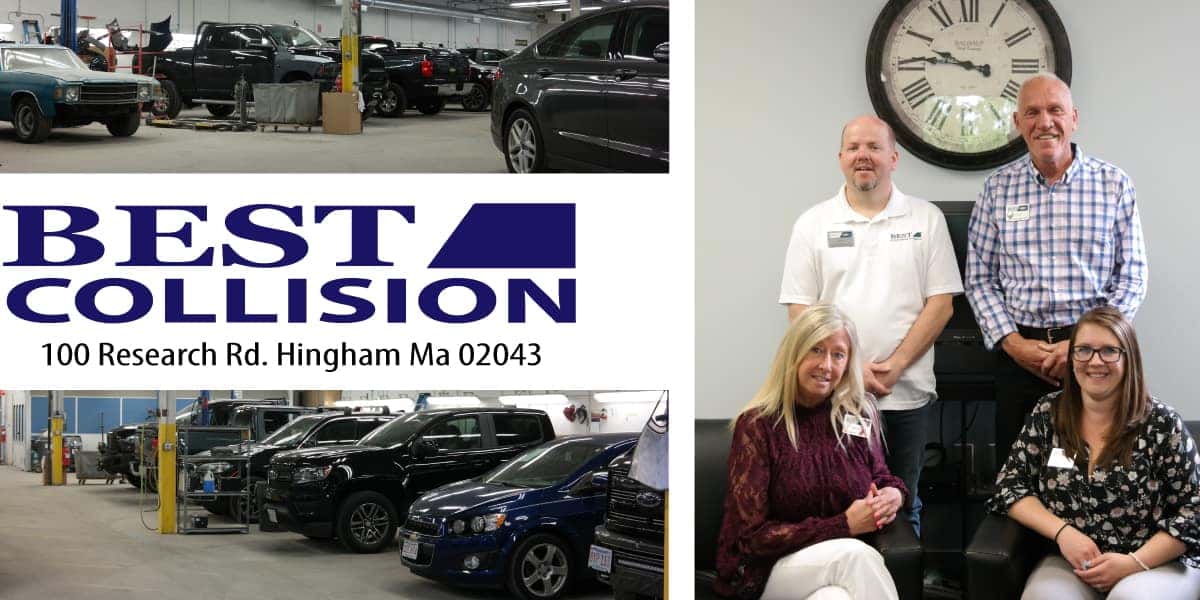 COLLISION PROCESS
We have been hard at work getting our guests vehicles ready for the road. We are ready to assist with any needs. Currently we are maintaining a clean space by disinfecting all surfaces. During this time we are open M-F, 730am – 3pm and closed on Saturdays. Please call or request information by contacting us ahead of your visit. We are here to help.
HERTZ Rental cars are available for your convenience.